Fast and consistent communication from the sensor/actuator level to the cloud: Single Pair Ethernet is a substantial element in the intelligent communication architecture of modern automation systems. All our members have the same opinion, including founding member Rosenberger. 
Folke Michelmann, Executive Vice President, Business Area Medical & Industries tells you in this short clip how SPE will develop the future and why Rosenberger is a member of the Single Pair Ethernet System Alliance.

Connector User Congress (Anwenderkongress Steckverbinder)
Do not forget! Next Monday the Connector User Congress (Anwenderkongress Steckverbinder) starts in Würzburg. On the same day, the five exciting and informative lectures of the Single Pair Ethernet System Alliance will take place.
In addition, members of our Alliance will be represented with stands at the leading connector congress. Has there ever been a better time to get in touch in person?
Click here to go directly to the event.

SPESA Round Table Discussion: 50 million nodes
Don't miss our first episode of the Single Pair Ethernet Round Table Discussion! We're pleased to welcome some of our SPESA experts in the first episode to discuss why SPE is unstoppable and what's behind the prediction of 50 million SPE nodes by 2030. Be sure to tune in!

Connector User Congress (Anwenderkongress Steckverbinder)
We are looking forward to the Connector User Congress (Anwenderkongress Steckverbinder) in Würzburg. Are you too?
The first day of the leading connector congress, on 4 July, is clearly dedicated to the Single Pair Ethernet System Alliance. In five lectures, our experts will inform you about the topics:
Multidrop applications with Single Pair Ethernet
Backwards compatibility of SPE technology with older bus systems
Market potential of SPE
SPE shielded or unshielded for 10 BASE t1S
Connectors for General Purpose Ethernet at ODVA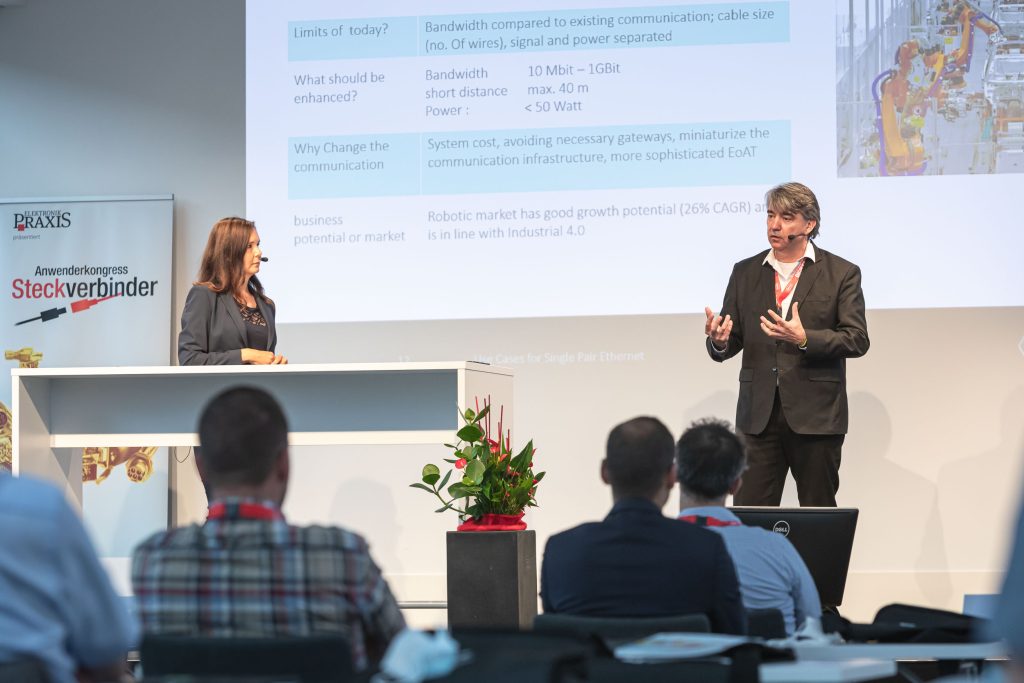 As you are of course Single Pair Ethernet enthusiasts, we will certainly see you at this event. We look forward to meeting you in person!
Click here to go directly to the event.

Connector User Congress (Anwenderkongress Steckverbinder)
The time will soon come! On 4 July, the Connector User Congress (Anwenderkongress Steckverbinder) will start in Würzburg. The leading congress on trends and the use of modern connectors is a must in the electronics industry. Experts will impart specific know-how and provide insights into the latest trends and developments.
Of course, the Single Pair Ethernet System Alliance is not to be missed! With several partner booths and no less than five presentations, we will participate in the congress and would like to inform and inspire you about various aspects of Single Pair Ethernet technology.
We are looking forward to seeing you!
Click here to go directly to the event.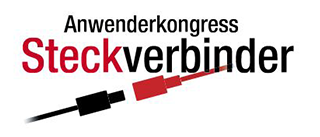 NEW: the newsletter for the Single Pair Ethernet area
During the Hannover fair we were able to talk to many of you personally. But we would also like to keep you up to date on the latest developments in the field of Single Pair Ethernet and of course our alliance beyond of the trade fairs. And now the time has come: The first Single Pair Ethernet System Alliance Newsletter is here!
In the first issue we report, among other things, on the cooperation with TIA SPEC, show you interesting video formats and you will receive our exclusive whitepaper "Multidrop SPE Technology".
You don't want to miss all this and the upcoming issues? Then register here for free.

Member Statement by Torsten Janwlecke
Single Pair Ethernet is one of the mega trends in industrial data transmission. This conviction is shared by all our members, including founding member Phoenix Contact. Torsten Janwlecke, COO & President Business Area Device Connectors, tells you in a short clip why SPE will change the IIOT and why Phoenix Contact is a member of the Single Pair Ethernet System Alliance. Take a look!

Tim Kindermann recently joined the SPE System Alliance Board. Get to know our new board member and why Tim sees a huge potential in further developing the SPE System Alliance.

Member Statement by Jörg Scheer
Single Pair Ethernet will establish as the network infrastructure for the Industrial IoT. This conviction is shared by all our members, including founding member Weidmüller. Jörg Scheer, executive vice president,  tells you in a short clip where this conviction comes from and why Weidmüller is a member of the Single Pair Ethernet System Alliance.
Take a look!

Unstoppable into the future!
Single Pair Ethernet is here to stay. We are on track for 50 million SPE nodes in 2030 in Factory Automation alone. A sophisticated forecasting model from the Single Pair Ethernet System Alliance indicates this, and we will push this development sustainably. Join us as we create the future of Industrial Ethernet!

Multidrop-SPE-Technologie
Calling all product managers and developers of Single Pair Ethernet infrastructure components to take a look at our new whitepaper! The 15-page technical paper was written by members of the Single Pair Ethernet Alliance. It outlines multidrop SPE, providing a comprehensive explanation of the current status of the technology and its use cases.

Single Pair Ethernet System Alliance: Expert Talk
Members of the Single Pair Ethernet System Alliance present the alliance and SPE technology in this Expert Talk. Find out more about the versatile application possibilities of the new digital infrastructure and its advantages compared to conventional Ethernet solutions. Our experts will also inform you about the current status of standardization and cordially invite you to become part of the global technology alliance yourself.

Big appearance of the Single Pair Ethernet System Alliance at the ITG symposium.
This year's VDE ITG conference (the "Cologne Cable Conference for Communication Cable Networks") unfortunately had to take place online due to the pandemic. Nevertheless, about 60 people spent an afternoon at this online event to learn about the latest developments in Single Pair Ethernet.
The System Alliance supported the successful event with numerous presentations from their ranks.
Verena Neuhaus (Phoenix Contact GmbH & Co. KG) reported on the advantages of SPE in industrial communication. In her presentation, she went into the current situation of the IEEE standards for SPE, showed the development of the standards for SPE connectors and demonstrated the advantages of the connectors from IEC 63171-2 and -5 for industrial applications.
Ralf Tillmanns (Weidmueller Interface GmbH & Co. KG) showed a consideration and analysis of components and SPE channels below 1 MHz.
The presentation was about the evaluation of existing components and channels below 1 MHz in return loss. The results show that an exact consideration of the termination of the component or channel to be tested must be observed. Furthermore, when considering channels, it should be noted that erroneous results can occur in the lower frequency range. Factors such as the size of the component to be tested compared to the wavelength, imaginary parts of the cable in the impedance play a corresponding role here.
Bernhard Mund (BDA), Dr. Christian Pfeiler (Draka Comteq Germany GmbH), Thomas Schmidt (Rosenberger), Thomas Hähner (Nexans France) reported on the EMC parameters of single-pair Ethernet cables.
The presentation dealt with the EMC properties of SPE cables in comparison of modelling and measurement, especially in the lower frequency range, which are of course very important for use in harsh industrial environments. Through the round robin test organized by the Working Group Cable with different cable types and their measurement in 5 laboratories, a good agreement, reproducibility and confirmation of the new limit values for the shielding effectiveness at low frequencies (Low Frequency Coupling Attenuation) could be shown for the first time.
Dr. Christian Pfeiler (Draka Commteq Germany) then gave a joint presentation with Yvan Engels on the status of standardisation with regards to single-pair cabling and cables. Here the arc was drawn from application-neutral cabling with the supplements to 11801 to component standardisation. The status of cable standards in the IEC 61156 series was then directly related to the previous presentation on EMC properties.
Bruno Escher and Andreas Wassmuth (Draka Commteq Germany GmbH & Co KG) then reported on the Compatibility of SPE cables for legacy IIoT and BIoT bus systems. Based on theoretical considerations of the transmission parameters for existing bus systems (including RS 485, Profibus, BacNet), test results for the use of SPE components in these bus systems were then presented. It was shown that SPE components are suitable for use in existing bus systems and thus represent a very good migration option for future use with Ethernet components.
The final panel discussion, moderated by Sebastian Glatz of the ZVEI – Fachverband Kabel und Leitungen, with the participants Simon Seereiner (SPE System Alliance), Yvan Engels (Consultant), Andreas Wassmuth (Prysmian Group) and Rainer Schmid (Harting Pushing Performance), was introduced by a keynote speech by Simon Seereiner (Weidmueller Interface GmbH & Co. KG). In this presentation, Simon Seereiner showed the advantages of Single Pair Ethernet in different applications. The focus was on showing the many possible applications of SPE in the last mile. These use cases were developed in one of the numerous working groups by members of the Single Pair Ethernet System Alliance. A video with these use cases can be found on the website of the Single Pair Ethernet System Alliance (link).
Conclusion:
A successful event in which the numerous applications of Single Pair Ethernet technology were intensively discussed. The consensus of all participants showed that the Single Pair Ethernet technology will be a necessary addition to the family of Ethernet systems in the direction of "All-IP" communication and that it is only a question of time until this technology will become widely accepted. However, it also became clear that only a holistic view of the "eco-system" and the use cases will enable a rapid introduction.
The members of the Single Pair Ethernet System Alliance will continue to support the VDE ITG conference with competent presentations.

Review "LANline Tech Days"
In line with the idea that Single Pair Ethernet (SPE) could be the technology that finally fulfills an old promise – to become a uniform basis for all data communication in (almost) all use cases and areas – System Alliance members actively helped shape this year's LANline TECH Day.
In a professional setting, broadcast live from the Phoenix Contact Dialog Days Studio, attendees learned about the benefits of SPE in industrial communication:
Ethernet has in many cases supplanted fieldbuses in the industrial plant sector. But the technology, which is tailored to typical IT applications, often hits its limits. Long cable lengths, durability and miniaturization are what industry requires, not increasing transmission rates. Single Pair Ethernet is developing as a solution to become one of the megatrends in industrial data transmission.
Leading companies from the Single Pair Ethernet System Alliance highlight areas of application for this new technology. The availability of components and the advantages of an internationally standardized cabling system are also presented. With the new SPE interfaces, device manufacturers can accommodate twice as many interfaces in the same installation space as they previously could with conventional RJ45 sockets. This means the interface can very easily supplement existing infrastructures while fully achieving its cost-saving potential.
BRIEF, INTERESTING AND TO THE POINT – LANline TECH Day brings you up to date with the latest developments in a highly informative and practical way.
The well-known speakers and the editorial support provided by the independent trade journal LANline ensure the high quality of TECH Days.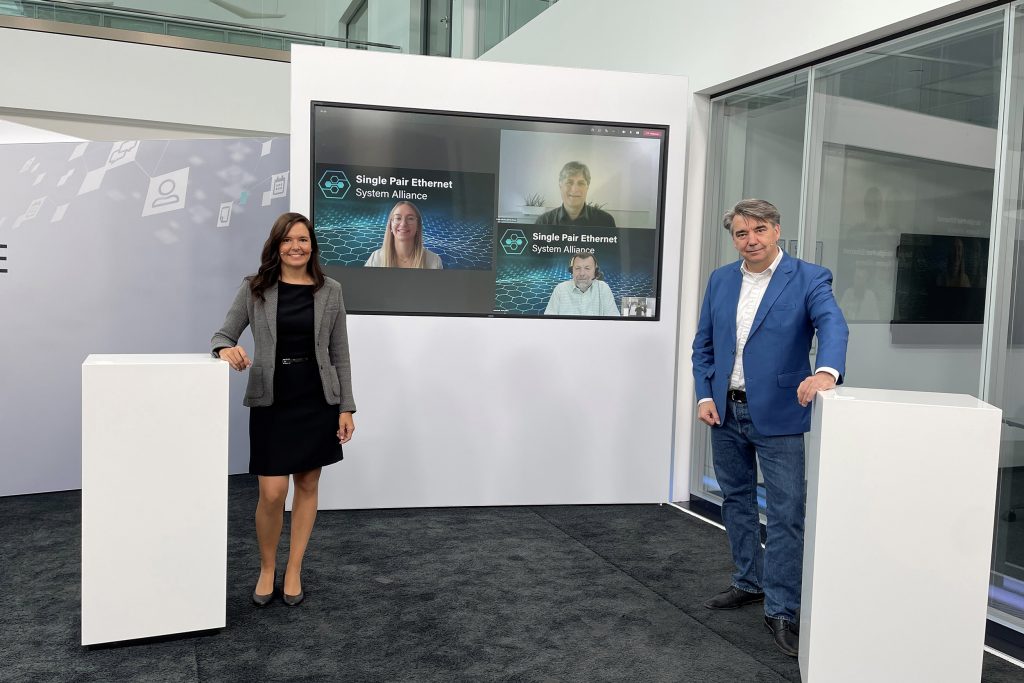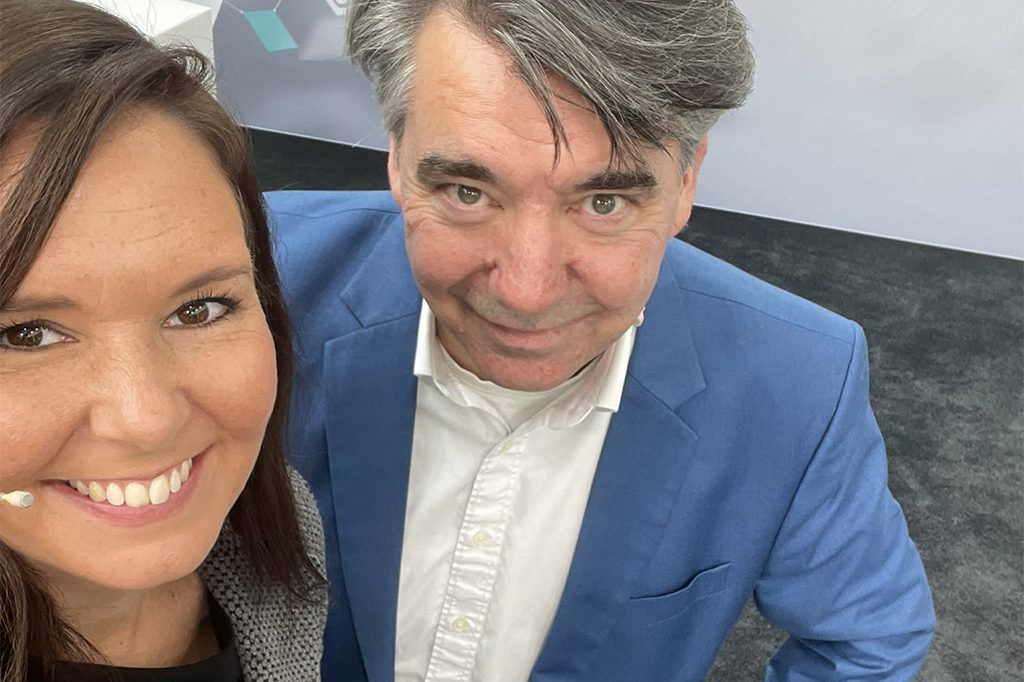 Two years of SPE System Alliance: standards and strategies for IIoT
With Single Pair Ethernet, the field level with sensors and actuators can be integrated into the smart factory simply, space-saving and cost-efficiently, and the continuous data flow from the edge to the cloud can be realized. With transmission rates of 10 Mbit/s at a transmission length of up to 1,000 m up to 1 Gbit/s at a transmission length of 40 m, the two-wire technology – instead of eight or four with classic Ethernet – is completely sufficient even for sophisticated sensor technology. And compared to the RJ45 connector, a doubling of the port density is possible, allowing for significantly more compact designs of devices.
In order to create a common market standard and establish SPE solutions in the industries, the Single Pair Ethernet System Alliance was founded two years ago.
In the first step, members of the alliance realized two internationally standardized connector variants. These include a uniform, compact connector face that allows new, space-saving designs. SPE also enables more transparent IIoT architectures: according to research by the Single Pair Ethernet System Alliance, operating costs can be reduced by at least 18%.
The first products and solutions for factory automation, process industry and building automation are now on the market and will be presented at SPS by Alliance member companies. For example, Phoenix Contact will show prototypes of two M12 versions with only one data pair: an SPE-M12 connector and an SPE-M12 hybrid connector.

Growing interest in SPE at the Anwenderkongress Steckverbinder 2021
It was a pleasure for the members of the Single Pair Ethernet System Alliance to speak at the Anwenderkongress Steckverbinder 2021 live on site in Würzburg together. Verena Neuhaus from Phoenix Contact and Simon Seereiner from Weidmüller presented the topic "Use cases for Single Pair Ethernet: The advantages of SPE in industrial communication".
Karl Lehnhoff presented "Possible and available SPE PHYs and switches" with a focus on Broadcom, Microchip, NXP and Onsemi out of the EBV Elektronik Linecard.
Frank Moritz from Sick gave an insight view on Single Pair Ethernet in Sensor System. He addressed the benefits of SPE for Sensors in different industry specific applications.
Especially the lively discussion afterwards with the approximately 150 participants on site showed that the interest in SPE continues to grow. Use cases and application examples of the Single Pair Ethernet technology attracted a lot of interest and are important to illustrate the relevance of the innovative SPE Technology. We are looking forward supporting the next event with comprehensive knowledge and up to Date information on the Single Pair Ethernet Technology.
At the accompanying exhibition, further members of the Single Pair Ethernet System Alliance, as Phönix Contact and the Rosenberger Group showcased their SPE systems and solutions.

TIA Single Pair Ethernet Consortium to Collaborate with SPE System Alliance
TIA's Single Pair Ethernet Consortium (SPEC) will partner with the Single Pair Ethernet System Alliance to educate the global market about the benefits that Single Pair Ethernet (SPE) technology will bring to different applications. Through this collaboration, the two associations hope to accelerate market adoption of SPE technology and bring clarity and confidence to the market by harmonizing communications, education and global standards development.
SPE is generating a lot of interest among automotive, industrial and building automation applications because of its ability to cost effectively transmit power and data over a single pair of copper wires over distances as long as 1000 meters. SPE cabling's small size, light weight and extended reach make it an ideal technology to support the billions of connected devices and sensors being installed to support Internet of Things (IoT) and building automation systems 
"SPE technology is a potential game changer for Industry 4.0," said Simon Seereiner chairman of the System Alliance. "To help with adoption, it's important to define the technology ecosystem within the global market. Working with TIA SPEC our two organizations can present a unified message."
"Standardization of OT and IoT is critical to obtaining widespread adoption," said Ronna Davis, Chair of TIA SPEC. "By enabling the entire OT network to be supported by Ethernet and replacing disparate legacy protocols with a universal language, SPE lays the foundation for more functional and secure network. SPEC's mission is to speed awareness of SPE technology, build ecosystem support, and provide the proof of concept and support that companies need to make the transition. Working in partnership with the SPE System Alliance will help us all accelerate the adoption of this transformative technology."
About TIA's Single Pair Ethernet Consortium
TIA SPEC was formed to nurture the adaption and growth of single pair networks in a standards-compliant ecosystem. SPEC's mission is to accelerate the adoption of next generation Operational Technology (OT) and Internet of Things (IoT) connectivity by creating a collaborative forum for network and building automation technology leaders interested in utilizing Single Pair Ethernet (SPE) and providing case studies, proof of concepts, white papers and reference architectures.
About TIA
Poised at the intersection of the network and communications technologies, the Telecommunications Industry Association (TIA) brings together communities of interest across — Technology, Government Affairs, Standards, and Business Performance — to shape solutions, facilitate programs, and provide products and services that enable high-speed networks and accelerate next-generation Information and Communications Technology (ICT) innovation across all markets.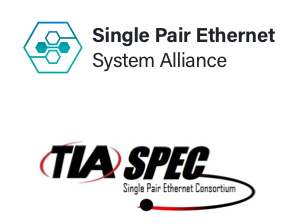 User Congress Connectors - Program
On September 07, the SPE Day will take place in Würzburg as part of the hybrid event "User Congress Connectors".
Meet Verena Neuhaus (Phoenix Contact) and Simon Seereiner (Weidmüller Interface) live on the topic "Use cases for Single Pair Ethernet: The advantages of SPE in industrial communication".
This is what the participants learn in the lecture:
Applications for Single Pair Ethernet in industrial environments
Advantages of an internationally standardized Single Pair Ethernet interface
Status of international standardization for Single Pair Ethernet

Statement on the new SPE connector draft standard IEC 63171-7 from TE Connectivity
The Single Pair Ethernet System Alliance (www.singlepairethernet.com) is a registered association consisting of 32 leading technology companies with the goal of establishing Single Pair Ethernet in numerous applications and markets.
With the publication of the NWIP (New work Item Proposals) of IEC 63171-7, TE has for the first time presented a hybrid system for single pair Ethernet data and simultaneous power supply. The Single Pair Ethernet System Alliance supports this proposal from Tyco Electronics because it provides additional power for many applications where PoDL (Power over Data Line) technology reaches its limits. The four power contacts as well as the functional earth and the SPE data container in the M12 connector offer an interesting connection technology, especially for many compact, decentralized field devices.
The fixing of a new data container in this hybrid interface shows the applicative diversity on the market. It is therefore not the mating face that shapes the market, but the application that defines the interface.
The Single Pair Ethernet System Alliance believes that this connector is another important piece of the puzzle for the establishment of SPE in numerous applications and thus supports the overall Single Pair Ethernet solution.
About the Single Pair Ethernet System Alliance:
The SPE System Alliance is an association of leading technology companies from various industries and application areas that bundle their know-how in the field of SPE and exchange it in a goal-oriented manner. All partners pursue the common goal of promoting Single Pair Ethernet technology for the IIoT and all other application areas.

Speaking a common language
Single Pair Ethernet is considered to be the technology that enables the Internet of Things in industry all the way into the field. Simon Seereiner, Head of Product Management SAI & IE at Weidmüller, explains why this is the case and what still needs to happen before widespread use.
Why is single-pair Ethernet (SPE) technology playing an increasingly important role in the communications architecture of industry? Why is single-pair Ethernet (SPE) technology playing an increasingly important role in the communications architecture of industry?
We now find IP-based communication everywhere – in smartphones, on our computers, but also in industrial plants. Over the last 20 years, more and more Ethernet-based communication architectures have entered the industry: Profinet, Ethernet IP, Ethercat. These are all Ethernet-based fieldbus systems. However, the continuity is missing on the last mile, so to say on the sensor-actuator-level. There, bus architectures such as Profibus, CAN, ASI and others still exist. That is, there are gateways there that convert the Ethernet-based communication back. The approach now is to create end-to-end communication so that IP-based communication can also be used at the lowest sensor-actuator-level.
Why is there no Ethernet-based communication on the sensor-actuator-level yet?
Until now, it was simply too expensive and too complex to bring Ethernet-based networks right up to the sensor. This is now changing with Single Pair Ethernet.
Enlighten us: What exactly is behind this SPE technology?
Until now, engineers have grown up with the knowledge that a Fast Ethernet, i.e. a 100-megabit line requires at least two pairs of wires; a Gigabit cabling accordingly four pairs. With SPE technology, the line structure is reduced to one wire pair for the same transmission rates. That is, you lay only a quarter of the copper and need only a quarter of the processing time. This saves space and enormous costs.
Data transmission can therefore be carried out more compactly and cost-effectively…
Yes, but that doesn't just apply to data transmission. A very significant advantage is that both data and power can be transmitted over these two-core cables. The technology behind this is called Power over Data Line (PoDL). This allows up to 60 W with simultaneous data transmission (100 Mbit) to be fed to an interface. Sensor technology, for example, can therefore be supplied with just a single two-wire cable. In this way, it is possible to build up sensor systems in industry cost-effectively, simply and with a high packing density, which leads to increasing degrees of automation and networking and to the realization of ever more highly automated processes.
You say the whole thing is less expensive, can you back that up?
Since the infrastructure is still missing, we can't use the technology yet. However, we have already done simulations and theoretical considerations in tooling and machinery manufacturing. To this end, we brought together experts from the mechanical and plant engineering sector and discussed the questions with them: "Now let's imagine that SPE were available. What would you do differently, where would you save costs, what would the simplification of processes entail?"
The result was very impressive. You save components, of course, but a far greater advantage is that machines can be controlled and operated much more efficiently with the transparent architecture. this saves enormous costs in parameterization, commissioning and execution of the work. In the simulation we performed, we were able to reduce operating costs by 18% with the use of SPE.
What conditions must be created for SPE to be used across the board?
First of all, the infrastructure has to be completely built. Only if cables, connectors, chipsets, switches and devices are able to speak a uniform Ethernet-based SPE language can even large automation companies build their corresponding control systems and device functionalities. We, i.e. the connection technology companies, are virtually the big bang that is needed at the beginning before a new technology can be established.
Is the market ready to implement a new technology?
There is a lot of interest in the market. I could drive by customers virtually every day to present this topic. But a technology is only slowly gaining acceptance. We are just at the beginning. The hype around the topic is growing. However, we do not expect to sell tens of thousands of our SPE connectors next year. As a pioneer in connection technology, it is important for us to be on the market with products in good time so that customers can use and test them.
So you have already developed SPE connectors. To what extent is Weidmüller still involved in the topic of SPE technology?
We are active in two subject areas. On the one hand, we are launching the above-mentioned series products on the market at the Hanover Fair with internationally standardized interfaces in accordance with IEC 63171-2 and in accordance with IEC 63171-5. In the meantime, there are four companies that have also really touted this interface independently with tools, so Weidmüller is launching products on the market together with partners to build up a connector infrastructure. Translated with www.DeepL.com/Translator (free version)
The second point: Weidmüller is very intensively involved in standardization. I myself am a staff member of the Profibus User Organization (PNO) and the Open Devicenet Vendors Association (ODVA). In addition, we have staff members on the IEC connector committee and also participate in the standardization committee of the Institute of Electrical and Electronics Engineers (IEEE). So we help to realize the right standards with our expertise within standardization for cables and connectors.
Speaking of standards – what is the state of play here?
Interest in standards is high across all industries and the standardization machinery is running at full speed. Naturally, at this stage of the process, some manufacturers tend to unceremoniously communicate proposals as regulations in order to pass off their product as the new standard. The normative process is currently underway, but not yet completed. The statement that the market has already agreed on a mating face, as some manufacturers claim and often spread in the trade press, is definitely wrong. Important and powerful user organizations, e.g. Profinet are currently forming opinions and will deal with this topic in the future.
Finally, a look into the future: Will SPE still exist in 20 years or will the industry have long since transferred its data contactlessly?
I am very sure that in 20 years there will still be plenty of SPE interfaces. With contactless transmission, you are addressing a beautiful issue. Wireless applications are already in use in industry today, for example in high-bay warehouses. However, we estimate the wireless share of connection technology at only 2 to 3%. While this will increase, wired transmission links will still remain in the future. These will only be much more compact and transmit higher frequencies. SPE as an essential part of the future infrastructure for the IoT of the industry makes the beginning.
Thank you very much Mr. Seereiner.
TO THE EXPERT
Simon Seereiner is Head of Product Management SAI & IE at the Weidmüller Group and is responsible for the product and solution range for passive, industrial networking. In addition, the engineering graduate is involved in national and international committees on industrial connectivity topics.

Data communication from the device to the field
Single Pair Ethernet promises a continuous Ethernet connection from the sensor to the cloud. The automation industry is enthusiastic, but demands standards.
Single Pair Ethernet (SPE) is the buzzword when it comes to network infrastructure for the Industrial Internet of Things (IIoT). Users expect this to result in an end-to-end communication architecture in all applications where data is generated. Behind this is the concept of extending Ethernet to sensor technology. That means everywhere where no data highways prevail and you still need compact data transmission with a long range.
Industrial Ethernet networking is indeed used in industrial applications and brings many advantages due to real-time transmission. However, the technology is too complex for simple sensor applications. "At the sensor-actuator level, we are still working with a bus architecture. We now want to create an IP-based communication infrastructure with a uniform communication protocol from the sensor to the cloud," explains Simon Seereiner, Head of Product Management SAI & IE at Weidmüller.

Adjust data transfer rates
This should be possible with Single Pair Ethernet. This is because SPE dispenses with oversized data transmission rates, but can bridge greater distances and do so in a more compact design. This is because the connection technology – unlike previous Ethernet cabling – requires only one pair of wires instead of two or four pairs. This is thanks to the development out of the automotive industry. Because space and weight savings play a major role there. You need an infrastructure with as few cables as possible, but they have to do a lot thanks to the increasingly autonomous driving characteristics. "For these reasons, automotive manufacturers began working with the IEEE standards body to develop a protocol for single pair Ethernet back in 2012," Seereiner explains. In industry, the same issue is now arising due to digitalization: As more and more sensors are being integrated into machines and systems, the cabling must be designed accordingly for industrial use and be compact. Single Pair Ethernet is considered to be the key technology enabling IoT applications in industry: transmission rates from 10 Mbits/s with a transmission length of 1000 m up to 1 Gbit/s with a length of up to 40 m are sufficient even for sophisticated sensor technology. Scanners and cameras for monitoring or recording the type and position of a component can also be integrated into the network using Ethernet.
Data and power supply in one
Thanks to Power over Data Line (PoDL), Single Pair Ethernet can also ensure the power supply of the connected component. Up to 60 W can be fed to an interface with simultaneous data transmission of 100 Mbit/s. "This makes it possible to supply a sensor with both power and data using just one two-wire cable. And all this via a small, compact design," explains Seereiner. There is no need for an additional cable for the power supply, which brings advantages in tight spaces. Energy transmission with simultaneous data transmission is anchored in the standards. For this purpose, the IEEE has defined a classification into different power classes. Since the classes 1-9 are already assigned by Power over Ethernet (PoE), with PoDL the power classes start at 10.
Weidmüller already has two connectors for single-pair Ethernet technology in its portfolio. One variant in protection class IP20 and one variant in protection class IP67. Both variants belong to the IEC 63171 series of standards, in which connectors for single pair Ethernet are defined.
Due to the robust locking mechanism – similar to that of the RJ45 connector, a pull-out force of at least 50 N and an industrial dielectric strength of 2.25 kV DC, the new SPE connectors have ideal characteristics for industrial use. The high packing density ensures that up to 50% less space is required compared to the RJ45 connector in the IP20 environment. In addition, the SPE connectors can also be assembled easily and quickly in the field and are suitable for cabling in the AWG 26 to AWG 22 range.
With these new developments, Weidmüller is taking on a pioneering role, as the technology is far from having arrived in the industry. This pioneering spirit is in the company's DNA. With its inventions, Weidmüller has always helped shape the industry of connection and device connection technology. For this reason, the company also addressed the topics of Industry 4.0 and digitalization at an early stage. The basis of digital transformation is the IIoT, which enables the constant exchange of data between all parts, components and devices. For Weidmüller, it has therefore long been clear where the journey is heading and how the company can help shape the digital transformation with industrial connection and termination technology.
Bundling experience and know-how
In order to further advance Single Pair Ethernet for the industry, many experts from the fields of connector and connection technology, automation technology and the cable industry have joined forces to develop internationally applicable standards for the technology.
Weidmüller has also been involved in such a technology partnership from the very beginning. "We want to put the topic of single pair Ethernet on as broad a basis as possible, which is why manufacturers of sensors, cables, connectors, measuring devices and chips as well as end devices work together in our network to bundle their expertise there," says Seereiner, describing the partnership.
This has created a platform on which all participating companies can exchange information. "You benefit from each other's experience, for example, when it comes to implementing new products," Seereiner says. The aim of the technology partnership is to ensure a coordinated infrastructure for devices, connectors, cables and measurement technology.
The basis for such a uniform and consistent infrastructure is international standardization. For such an important technology, a wide variety of associations are involved, including the IEEE. For the IEEE 802.3cg project, connectors and their electrical characteristics were defined for the first time in the IEEE environment. All connectors that meet the electrical characteristics of the standard can be used.
The connectors for Single Pair Ethernet are defined in the IEC 63171-X series of standards. The design of the mating faces and the mechanical requirements for the connectors are described in the subordinate series of standards. Weidmüller's SPE connectors, for example, belong to the IEC 63171-2 variant for the IP20 environment and the IEC 63171-5 variant for the IP67 environment.
The company will present its two connector solutions for Single Pair Ethernet at the Hannover Messe. "Both mating faces – for IP20 and IP67 – are mate-compatible with each other. This is particularly advantageous in field measurement technology. There, users can simply connect devices with IP67 interfaces using an IP20 measuring connector and vice versa," Seereiner reveals in advance. And further, "In addition to the single plugs, a 4-chamber variant is planned." This allows four SPE cablings to be implemented via one interface in a compact size: The housing is less than the size of a conventional RJ45 housing. Weidmüller is therefore working at full speed on further solutions that will enable an infrastructure for SPE technology.